Mask with Mulberry Helixience
Face care
Radiant skin
IN STOCK - Prepared and shipped within 48 hours.
This powder mask contains Seaweed, Mulberry, Saxifrage, Grape extract, Scutellaria and Vitamin C, to help fight free radicals and offer a beautiful glowing complexion in just a few minutes.Chosen for their synergetic action, the plant extracts used in this mask inhibit the formation of melanin, which is the cause of skin discoloration.
Skin type
Mature skin & brown spots

International shipping
in France with any 60€ order


Secure Payment
Visa, Mastercard
KEY INGREDIENTS
Seaweed
Mulberry
Scutellaria
Saxifrage
Grape Extract
Vitamin C

How to use
For one beauty care, measure 30g of powder for 100 ml of water at 20°C. Mix for 2 to 3 minutes.
Apply on the skin and leave on for about 15 minutes.
Then gently peel off the rubber-like mask.
Composition
INGREDIENTS : diatomaceous earth, algin, calcium sulfate, tetrasodium pyrophosphate, parfum (fragrance), sodium ascorbate, aqua (water), magnesium oxide, vitis vinifera (grape) fruit extract, disodium edta, sodium hydroxide, sodium metabisulfite, sodium sulfite, butylene glycol, morus alba root extract, scutellaria baicalensis root extract, saxifraga sarmentosa extract.
COMPLETE YOUR BEAUTY ROUTINE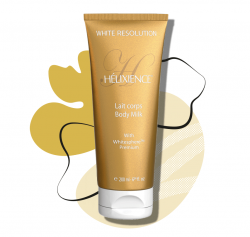 Body milk
Helixience
Anti-brown spots Anti ageing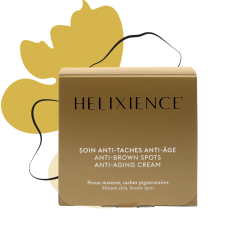 Helixience cream
White Resolution
anti-brown spots & anti-ageing
TEST
YOUR PERMANENT BENEFITS

International shipping
Fees based on your country


Secure Payment
Visa, Mastercard